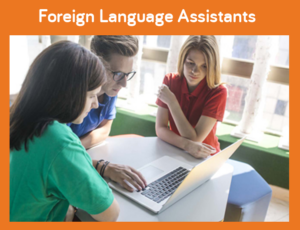 Foreign Language Assistants and their Cooperating Teachers are always busy throughout the year encouraging their students to engage actively in their chosen Modern Foreign Language.
A very popular activity over the past few years has been the competitions that PPLI and Languages Connect have promoted amongst the FLAs and CTs.
These competitions are highlighted below, with the most recent one taking the top spot.
Annual FLA-CT Competition 2023-24
Every year, we run a competition that each CT-FLA team can take part in.
This year's theme:
Develop a teaching and learning resource to inspire others in one of the following:
Sociocultural awareness/comparisons/similarities
OR
Oral skills development: teaching and learning resource
OR
How we developed a school exchange
The resource should bring an aspect of the target language culture to life in the classroom, with winning entries designed to spark inspiration amongst existing and future CTs and FLAs! Format for entry submission should be a PDF document or PowerPoint presentation, outlining the resource and how it was used effectively within a lesson (or lessons).
Prize – Book tokens (three one hundred euro for the three winning entries: one per FLA-CT team).
Closing date – Friday, 15 December 2023
Queries/entry submissions to: alan.mccormack@ppli.ie