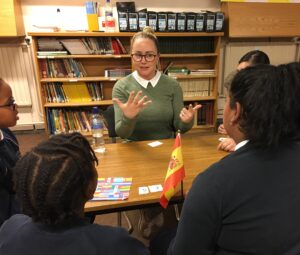 Open Day Language Taster Activity
Our Lady's College, Galway
Languages taught in the school: Irish, Spanish, German, French, Mandarin, Italian & Polish.
What are the aims of the project?
During our school open day, primary school students from around Galway were invited to take part in activities organised by some of the specialist departments at OLCG. The MFL department hoped to show these students the wide range of languages on offer at our school and give them a taste of each within a short space of time. By engaging in different activities in Spanish, French, German, Mandarin and Polish, students were excited about the possibility of taking up a new modern foreign language at secondary school.
How did you plan for it? How did you organise it?
We met as a department during a free period and brainstormed ideas for the Open Day. We had considered PowerPoints, online activities / games, talks from our current student body, singing songs, among other things. It was then agreed that we would plan interactive activities in 5 languages for students to enjoy. On the day, we set up 5 work stations – 1 for each of the 5 languages and divided students into groups. Each group spent 3 minutes at each work station and when the buzzer sounded, they moved in a clockwise direction to the next station and language. When the 15 minutes were up, students had a brief introduction into 5 languages! The activities were varied and we decided that all 5 activities should be different from each other – Students had to match Chinese characters to images, count to 10 in Polish, repeat some Halloween vocabulary in German, match some food vocabulary in French and repeat greetings in Spanish. One of our 2nd year students acted as time keeper and ensured that all went smoothly.
How was the project successful?
Students enjoyed the variety of activities. All 5 stations had well prepared materials for the different activities. Each activity was very brief and so the students did not tire or get bored at any station for too long. Once each teacher had given the instructions at the beginning, students did the work and so this took a lot of pressure off the teachers.
Would you recommend it to other schools? Why?
We would highly recommend it to other schools, where more than two languages are on offer. It was very memorable for the students and they were able to take home a worksheet after the activities to show to their parents.