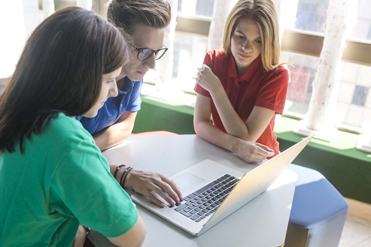 What? A language assistant is allocated for one language only but the language assistant should be made welcome by all of the MFL department.
When? Generally the language assistant arrives around the 1st of October and stays until the end of May. Please note for German, they can choose to stay for six months only.
How? Applications are available from the Department of Education and Skills from the beginning of January. The deadline for applications is usually the beginning of February and are allocated by Easter. The application form is referenced as FLA01.
Cooperating teacher: A language teacher specialising in the target language of the assistant should be designated as their main contact. That teacher should contact the language assistant before their arrival in Ireland, providing them with information about the school and local context.
Responsibilities of the MFL department:
The members of the MFL department should take responsibility for the language assistant. This includes explaining the role and work of the department, the roles and responsibilities of each member and sharing key documents with the assistant. This might include your assessment calendar, your units of learning, your departmental policies and your development goals. It is important to guide the language assistant on how they can best assist you in the classroom and contribute to your goals as a department but also to reinforce their role in promoting their language, culture and country. Make the language assistant aware of the school code of conduct. To this purpose, we have
devised documents
to help you with planning.
It is also very important to inform the language assistant of SEN students they will work with and offer support in this area. The language assistant is an asset to your classes but must not replace you as a teacher and /or plan lessons or correct your work or exam scripts. They cannot be used as dictionaries and should not be asked to write sample essays, oral paragraphs or role plays. Please also bear in mind they might require help with IT.
Before arrival
Advise the language assistant where to find accommodation. Some staff members might have a room to let.

Advise them about public transport.

Plan as a department how things are going to work (what year groups the assistant will teach, what tasks they will do, etc.) This will allow the assistant to plan and bring resources.
Once they have arrived
The assistant might need help buying a mobile phone or SIM card, registering with the GP, applying for a medical card or opening a bank account. Remember that these simple tasks are often bureaucratic and differ from the systems that they are used to in their own countries.
During the academic year
Remember to regularly check in with them to see all is going well with accommodation, workload, etc.