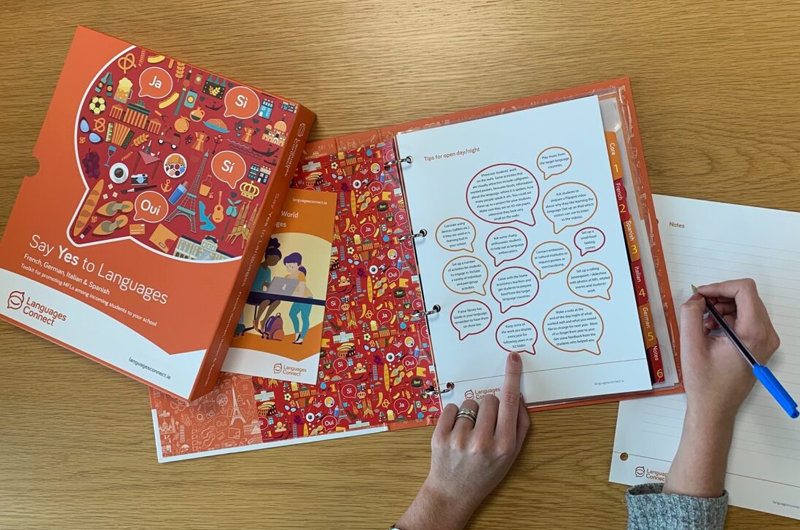 As preparations for open evenings commence in schools around the country, come join us for a Community of Practice dedicated to supporting you in promoting language uptake within your school amongst prospective incoming first year students!
In this one-off themed session, we will demonstrate how the toolkit could engage prospective students with language learning and will allow dedicated time for you to share with other teachers your ideas, tips and suggestions as to how the kit could be used to best effect!
The Say Yes to Languages toolkit is designed to help encourage incoming students to Say Yes to Languages when choosing their subjects for Junior Cycle. Included in this toolkit are a selection of ideas and resources, including the following:
-Tips for hosting open days/nights in your school for incoming first years and their parents.
-Ideas for engaging the students and their parents with games and online activities.
-Language passport designed to give students confidence in their capacity to learn foreign languages.
-Language specific activities for the four main curricular languages taken in Junior Cycle.
Sessions will run from 7-8pm over Monday 11 to Tuesday 19 September. Each session will be open to a maximum of 15 participants and, at the in person sessions, a copy of the toolkit will be available for each participant to bring back to their school with them. Tabharfaidh COGG leagan ar líne den Phobal Cleachtais seo.  
If you wish to attend, please register here by Thursday 07 September. We will make contact with participants following close of registration. 
For more information and to access the online versions of the toolkit in both English and as Gaeilge click here.